About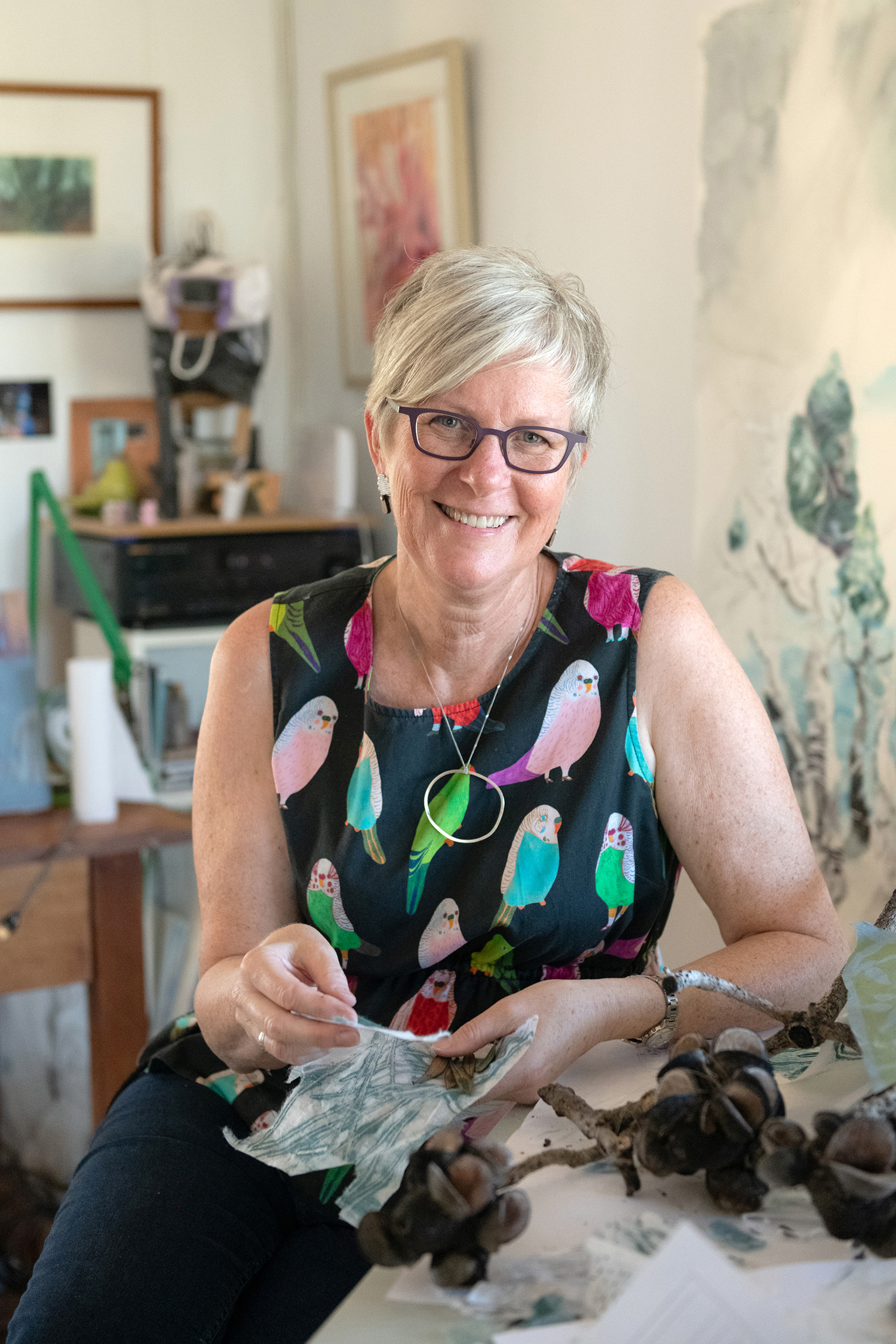 "In my own quest to become phosphorescent — in which I lost myself many times in dark holes and swamps — it was awe and wonder that I kept returning to, and the quiet healing properties of nature: 
the forest, the sea and the creatures they contain." Julia Baird, Phosphorescence 2021

Adrienne has always been drawn to wilderness — to nature's quiet, sheltered spaces and its exposed wild places.
Her practice is an ongoing navigation of connection to particular habitats and site-specific stories. Merging selected landscape traditions and colourist techniques, her plein air recordings are translated into dreamlike, utopian compositions.
Adrienne paints these wilderness stories — the miraculous, the beautiful, the dire — through the romantic lens that is memory. 
Her recent works reflect the quietude of nature's forms, nestled 
with the messy beauty of complex plant communities.
Adrienne's works on canvas and paper include drawing, painting 
and printmaking. She has exhibited professionally since 1999 in commercial and public galleries.
Individual Exhibitions
| | |
| --- | --- |
| 2021 | Landscapes in Isolation, Red Hill Gallery |
| 2020 | Watercolours, Red Hill Gallery |
| 2019 | The Casuarinas – Painted Habitats, Red Hill Gallery |
| 2018 | Saturday Morning Fever, Red Hill Gallery |
| 2017 | Calling Home, Bundaberg Regional Art Gallery |
| 2016 | New Mexico Landscapes, Red Hill Gallery |
| 2015 | Grass Trees New Ground, Red Hill Gallery |
| 2013 | Closer to Home, Red Hill Gallery |
| 2013 | Ten Green Bottles, Mt Perry Gallery |
| 2012 | The Spotted Gum – Bundanon to Bundaberg, Doggett St Studio |
| 2009 | Reeds and Other Friends, Doggett St Studio |
| 2006 | 10 days, 10 nights in Purnululu, Framed Gallery, Darwin |
| 2004 | Behind the Beach, Doggett St Studio |
| 2003 | As Fragile as Granite, Doggett St Studio |
Curatorial Project

| | |
| --- | --- |
| 2020 | FOUND! Studio Dog | Exhibition & Art Trail Bundaberg & Beyond. Concept, curation and implementation of a Covid-safe community arts project for professional and emerging artists across SE Queensland. 75 artists, 55 businesses, the Bundaberg Regional Art Gallery, and 9 satellite venues were engaged to activate the project across September and October 2020. |
Group Exhibitions
| | |
| --- | --- |
| 2020 | Here and Now, Bundaberg Regional Art Gallery |
| 2020 | Decadence, Queensland Regional Art Awards Touring Exhibition |
| 2019 | Land, Childers Arts Space |
| 2017 | Iconic Queensland, Queensland Regional Art Awards Touring Exhibition |
| 2016 | The Road to Somewhere, Gatakers Art Space |
| 2015 | Wide Bay High Desert II, Unsettled Gallery, Las Cruces, New Mexico USA and Bundaberg Regional Art Gallery |
| 2014 | From the Collection, Childers Art Space |
| 2013 | Wide Bay High Desert, Unsettled Gallery, Las Cruces, New Mexico USA and Bundaberg Regional Art Gallery |
| 2013 | Impressed, Hervey Bay Regional Gallery, Gatakers Artspace |
| 2013 | Sketchbook, Bundaberg Regional Art Gallery |
| 2012 | Landscapes, Bundaberg Regional Art Gallery |
| 2004 | Contemporary Landscapes, Cooloola Regional Gallery |
| 1999 | Unencumbered, Fox Gallery, Brisbane |
Upcoming
Education
| | |
| --- | --- |
| 1982 – 1984 | Queensland College of Art |
Artist in Residence

| | |
| --- | --- |
| 2015 | Artist in Residence, Las Cruces, New Mexico USA |
| 2006 | Bundanon Artist in Residence Program, NSW |
Artist Talks
| | |
| --- | --- |
| 2020 | FOUND Artist Talk, Side Gallery |
| 2020 | FOUND Artist Talks, Bundaberg Regional Art Gallery |
| 2016 | USA Residency Q&A, Bundaberg Regional Art Gallery |
| 2015 | Artist Talk, New Mexico State University |
Art Prizes
| | |
| --- | --- |
| 2021 | Bundaberg Art Prize HC Works on Paper |
| 2017 | Bundaberg Arts Festival Best Practice Software Award |
| 2016 | Martin Hanson Awards - John Anderson Acquisitive Prize |
Public Collections

Bundaberg Regional Art Gallery, Queensland
Teachers Union, Legal Aid Commission Darwin


Memberships
NAVA Professional Member
Flying Arts